arch and heel ache for five years
by Kay
(Texas)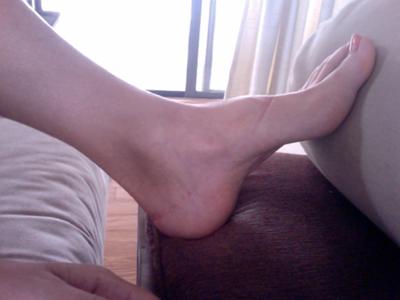 foot with arch pain and red nodule on sole
The bottoms of both feet have been intensely painful for years. Originally diagnosed as Plantar fasciitis, but no improvement with treatment or orthotics and no pain upon first steps in the morning. Pain is minimal in the morning and increases throughout the day--especially if I have to lift or carry anything over 10 lbs.


Foot pain is most intense when standing still on concrete or tile--walking is easier than standing. I do have very high arches and instep.
I've been to 3 podiatrists and a neurologist and still suffering.
Presently on Lyrica in case of neuropathy, but work standing on tile all day means increased pain even with medication.
I am now barely able to walk and desperate for a proper diagnosis. What could this be?
If it helps any, I am 49, female, 150lbs, smoke occasionally, drink moderately, and went through menopause at 38.
Thank you.
Hi Kay,
People with high arched feet do have a propensity to heel and ball of foot pain due to the fact that the mid portion of the foot is not picking up any of your body weight when you walk or stand. This of course is aggravated by the fact that you are on concrete all day which is the worst possible surface to stand on since there is no "give" to cement.
Short of changing careers or having extensive foot surgery, your only other option would be orthotics. Since you have been to 3 podiatrists I would assume
you have tried them. What I cannot assume is whether or not you have had the right kind.
If you were in my office I would want two things in an orthotic for your type of foot structure and job. One would be the orthotic should be cushioned in order to absorb the shock of being on concrete all day and secondly I would want the arch of the orthotic to actually support your feet. Countless times I have seen one or the other component missing in these types of cases.
The fact that your feet really do not hurt when you first wake up in the morning and only worsen as the day progresses, alerts me to the possibility of a heel bursitis or heel neuroma (read my sections on those conditions) more so than plantar fasciitis; this is a direct result of the constant pounding the heel takes in a high arched foot. If that is the case, then the heel really needs to be cushioned.
You need to work with a podiatrist who is willing to experiment with orthotics until you come up with something that works for your foot structure and lifestyle.
Lastly, I would think twice about the Lyrica; it is not the type of medication that you take on the "chance" of having neuropathy and if you have been on it for sometime and it has not helped, I would speak to your doctor about stopping the medication.
Marc Mitnick DPM
DISCLAIMER
: