Bump on inside of foot with pain
by Kate
(Orlando, FL)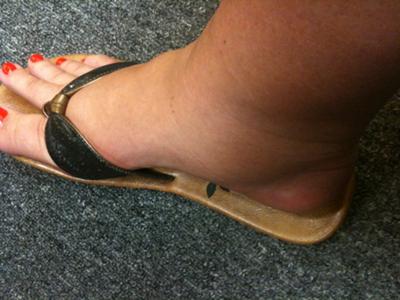 bump on inside of foot
Hi-


For quite some time now, I've experienced pain on the insides of my feet, right above the arch near the ankle. I get this pain whenever I wear sneakers and exercise. My right foot has developed quite a significant bump. It just feels like a fleshy part of skin. It doesn't hurt to the touch, only when I constrict it. However, just recently, I've started to get a random "burning" pain when I walk barefoot or in flip flops. I wear flip flops everyday (even to work). I went to a doctor a few months ago, got some x-rays, and there was nothing unusual. He did say that my right ankle bone was shaped a little funny, but nothing substantial. He gave me some medicated pads to put on my feet when I exercise. Those didn't do much, even made it a bit more uncomfortable because it caused more pressure on my foot since it was shoved into my shoe. He didn't think orthotics would be a remedy, bc my problem is when something hits that part of my foot. I've tried buying extra wide shoes, shoes for over pronation, etc. and nothing seems to work. I am overweight, so I know I need to lose weight, but that becomes difficult when it's so painful to exercise. It's a vicious cycle. Any suggestions you can make would be extremely appreciated.
Hi Kate,
It is hard to tell from your pictures exactly where the pain is coming from. But if it hurts when barefoot or flip flops and you get a burning pain, my first thought would be that of a tendon irritation where it attaches into the bone. This can happen if your foot flattens out too much when you stand and if you exercise it only makes it worse. If this is the case, then an arch support could be very helpful
You do not mention what type of doctor you went to but hopefully it was a foot specialist. If it was just your family doctor, I would suggest you make an appointment with a podiatrist.
Marc Mitnick DPM