Discolored pigment in both big toes and left pinkie nail..
by Gabriele
(Florida)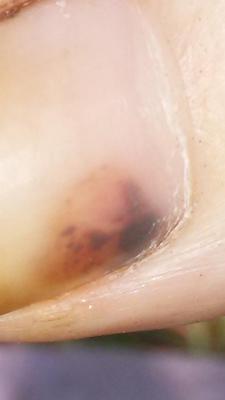 nail discoloration
Hello, I wanted to ask in concern of a discolored pigment that appeared on both my pinkie nail and both of my large toe nails, they are a brownish color with a purple colored specs on them. I have not suffered any trauma or injury and I was wondering Is this something to be concerned for of Melanoma??


RESPONSE
Hi Gabriele,
My advice to you would be to see a doctor in your area. The only way to tell if a growth is a melanoma is to have a biopsy. I do not know how long the nail discoloration has been present, but if it does not seem to be growing forward then that is highly suggestive of a growth on the nail bed, not necessarily melanoma, but a melanoma has to be considered.
Marc Mitnick DPM
DISCLAIMER