Displaced fifth metatarsal fracture
by Sally
(LA)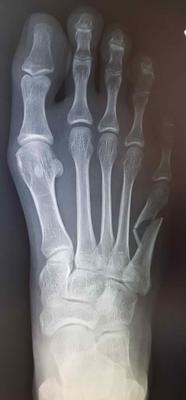 initial displaced fifth metatarsal fracture
I fell down the stairs, landing on my right foot twisted, and was diagnosed with a displaced comminuted 5th metatarsal fracture in end February 2018 (see first pic). Was put in non weight-bearing cast for 1 week, and then an aircast boot. Doctor said I could start to walk with the boot, as much as pain is tolerated. After 1 month, went back to do X-ray, but it looked exactly the same as before. Doctor had previously told me that my bone would be able to heal in proper alignment but obviously it wasn't going to happen without any external reinforcement! So I asked him what options I had to re-align the bone, and he said it was only possible with surgery. However he didn't seem to recommend the surgery, citing the possible complications and the need to remove whatever callus that has formed. So he just told me to continue wearing the aircast boot and let the bone heal in its misaligned position.

I was concerned about the long-term problems of leaving the foot like that, so I went to seek a second opinion. This time the doctor recommended surgery to put in implants to allow the bone to heal in proper alignment. However, due to some reasons, I was not able to do the surgery immediately and now my X-ray shows a malunion (see second & third pic). This is about 4 months after my injury occurred.

I am off the aircast boot now and walking with normal shoes (with good support). Doctor says to put off the surgery and continue walking and let the bone rebuild. There are occasional aches at the side of my foot where the bone is injured and there was once a sharp pain occurred followed by 1 week of recurrent tingling pain at the side of my foot. Since then I didn't dare to flex my foot too much as I was afraid the sharp pain was due to nerve injury or something.

I am not sure if this is the right direction to go - to continue walking and hoping that there weren't be any problems down the road? And whether the bone will be able to regain enough strength for me to return to normal sports activities like running? Considering that it is not in proper alignment.

I am female, 28 years old, doesn't smoke and drink, and have lost about 2 kg weight since my injury (now weighing 51kg at
1.7m height). It seems I'm losing bone density and doctor said I can slowly recover it by putting weight on my foot.
RESPONSE
Hi Sally,
I do not want to sound like a monday morning quarterback, but had you walked into my office with the first x-ray, I would have explained to you that you had a very slim chance of that fracture healing.
You have less than 50 percent bone to bone approximation AND the distal end of bone (front end) has displaced down onto the proximal end of bone (back end). This means, if by some miracle the bone actually had healed, your fifth metatarsal bone would have ended up being excessively short, which down the road you would have/might have, created additional foot problems simply because the architecture of the metatarsal bones would have been mal-aligned.
At 28 years of age, in good health, you were a perfect candidate for surgery. The potential for success far outweighed any potential complications. The main complication of this type of repair is non-union and you have that anyway.
If for whatever reason you decided not to have surgery, at the very least, you should have been totally non-weightbearing on crutches and should have been given a bone stimulator. This combination should have been instituted for a minimum of six weeks, with the possibility of a longer period of time depending on your progress.
Having said all of that, broken bones can heal in an abnormal position and people can function. It depends what your definition of "function" is.
If you never fall again, or even trip or stub your foot, the bone might not re-fracture. If you never participate in any sport or work out again, the bone might not re-fracture. In other words if you change your life style to accommodate this problem, you might get by for the next 60 years. But, I doubt it.
This does not even take into account the potential problems that can occur from the new position of your fifth toe and the resulting fifth metatarsal bone.
My opinion is that you should consider having the surgery. It will probably require a bone graft and a fair amount of hardware. You will need to be off the foot for a period of time, but once you have made the commitment to fix this problem and put in the time involved, you should be able to resume your life.
Good luck.
Marc Mitnick DPM
DISCLAIMER