Fungus—? Or just an overgrown toenail?
by Alyssa
(Idaho)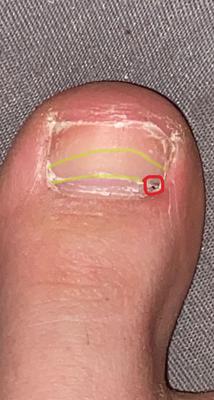 Right big toenail w the dot and outline
My feet haven't been hurting at all, but I do smash my big toes into chairs, beds, etc. But I notice that there's two lines (will show) on both of my big toe, on top is yellowish, and the bottom look like it's growing a new nail? and both of my big toes had a little black dot( which I was curious about) in both corners of my toenail, obv I googled and it said cancer(stupid), but I removed it and it looks like a dry blood clot. :') so that's good? But I didn't remove it from my right foot(will show) and i don't know, I've had problems with overgrown toenails, it was horrible. I would like to know what is it. Because it's making me self conscious abt it.


RESPONSE:
Just by looking at the pictures you provided it is impossible to tell if there is fungus or not.
I would suggest you see a local podiatrist who would be able to tell you what is going on with your nail.
Marc Mitnick DPM