Golf ball size swelling on the outer part of one ankle
by Jayanthi
(Malaysia)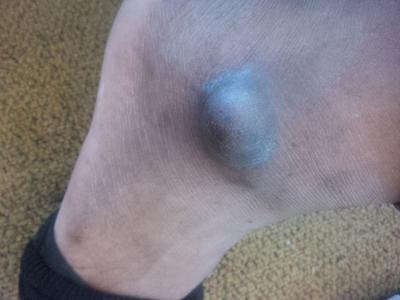 malignancy or benign?
My husband, who is 48 years old, has been having this golf ball size swelling on the outer part of his right ankle for more than a year. There was no pain initially but recently he said it is painful when pressed or when he puts on his shoes. No doctor could give him a proper diagnosis. Hope you can help give a name to his condition and suggest what is the proper treatment to be done. Thanks.


RESPONSE
Hi Jayanthi,
It is impossible for me to make a diagnosis just looking at a picture especially when doctors who have actually looked at it are clueless as to what it might be.
I have a couple of ideas, but if your husband walked into my office, the first thing I would do is a biopsy.
There is a procedure known as a dry tap biopsy, where a needle is inserted into the growth. Sometimes fluid can be expelled from the growth and sometimes not. In either event the needle is then placed in a formalin solution and sent off to the lab. From this small sampling a good pathologist can usually make a diagnosis.
Although I do not know exactly what is growing on your husband's ankle, one of the possibilities is that of a malignant growth. At the very least, that has to be ruled out through biopsy.
My best advice would be for your husband to make an appointment with a surgeon and request that the growth be biopsied, sooner rather then later.
Marc Mitnick DPM
DISCLAIMER