AUTHOR:
Marc Mitnick DPM
home
-->
products for foot pain relief
RECOMMENDED PRODUCTS FOR FOOT PAIN
click on the images for further information!
For those of you who require extra support for your foot or leg pain, may I recommend what I consider to be the best pre-made orthotic on the market.
For those who require extra support for your foot or leg pain, but are required to wear "dress" shoes on a daily basis may I recommend what I consider to be the best pre-made dress shoe orthotic on the market.

Finally a solution for all you parents whose children require orthotics to better stabilize their feet as they begin to walk and for better support during early adolescence. Prescription orthotics can be very costly and of course in the growing child, the orthotics have to be replaced frequently. Allow me to recommend a great rigid orthotic for children. (always check with your podiatrist or pediatrician before putting your child in any kind of supportive device)

For some of you who need some protection and cushioning on the bottom of your feet but do not require an orthotic to maximize the support of your feet, I urge you to take a look at these innersoles. They are a far superior replacement for worn out innersoles in your athletic shoes and when added to your casual shoes may be the difference between pain and comfort.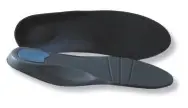 For those of you who are suffering from heel pain particularly when you first get up in the morning, allow me to offer a great night splint.

For those of you who have chronic ankle pain or are prone to ankle sprains take a look at this new ankle brace. Not only does it support your ankle but it has an internal bladder which when placed in the freezer prior to wearing, results in constant "cold" to the painful area which helps reduce pain and swelling.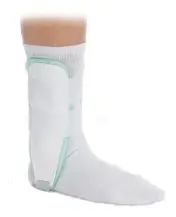 Not all socks are created equal! Diabetics, those with poor circulation, and people with very sensitive feet (due to a multitude of medical problems) could all benefit from comfortable socks. HEALTHY SOLES socks are specially made to help those with various medical problems affecting their feet. They offer features not found in most commercially available socks. If you suffer from any of the above mentioned foot problems than I urge you to take a look at these socks. A good pair of socks can go a long way to improving your comfort.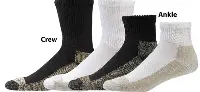 Do you suffer from toenail fungus? This is a very common condition and quite frankly the earlier and sooner it is treated, the easier it is to cure. Most cases start out as what is known as superficial fungus meaning the fungus attacks the top of the nail, typically seen as white specks on the nail. If treated at this point it is fairly easy to cure. If not treated the fungus may burrow through the nail and then gets underneath the nail and now it is more difficult to cure. The FIORE RX ANTIFUNGAL PROPEN may be the best topical solution on the market. Click the link below and find out why I like this product so much

The above mentioned products are my personal favorites because they are of benefit to the majority of people who try them.